Project Loan Fixed APR Offer:
(Plan Number 1209)
• Low Fixed APR of 9.99% with No Annual Fee
• 4 Month Purchasing Window, With Interest Only Payments (Purchasing window begins at approval)
• 120 Fixed Monthly Payments
• Credit lines up to $55,000
Project Loan 12 Month Offer:
(Plan Number 3128)
• 12 months NO INTEREST, NO PAYMENTS
• 4 Month Purchasing Window (Purchasing window begins at approval)
• 84 Fixed Monthly Payments after promotional period
• Credit lines up to $55,000
Quick and Easy Application Process 
Apply by Phone     
1-866-936-0602
When apply you will need your contractor's GreenSky number
PMHOKC Merchant #
81034070
GreenSky never sends emails requesting account information, customer passwords or log in credentials. Protect your personal information and never click on unsolicited web links provided in an email or other correspondence. If you are unsure about an email you receive, you can contact GreenSky at 855-809-1888.
PMHOKC is proud to offer an in-house financing option that is simple, easy to understand, and fast.
We love to serve our customers in many different ways. Helping you find financing for your Oklahoma City outdoor living Project is one of many things that we are passionate about. Our value as a company is determined by how many people we serve and how well we serve them and that is a core belief that we cherish.
There are many choices out there for financing. I would always start with your local bank that you bank at every day. But rest assured, if you need help, we have a great option for you. We use green sky financing which is a third-party company. We have worked with Greensky for several years and are set up through them to offer several different plans. Let's talk in a little bit more about green sky and who they are.
Green Sky
GreenSky is a financial technology company founded in 2006. They are the currently the largest lender to consumers for home improvement and offer financing to anyone in the United states.
How to Apply for Green Sky
One of our favorite things about GreenSky is how simple the process is. It starts by hitting the link on our Financing page of our website. From there, you will see the two main plans that we offer which we will go over in a little bit. We recommend that you look at these plans and see which one you would like to go with prior to proceeding. Once you have figured out which one you want to go with, hit the apply now link and it will guide you through a short three-step process. Fill out the necessary information which is very easy. Make sure to enter the amount of financing you are seeking for your Oklahoma City outdoor living Project. You do not have to have a project quote yet but it is easier to know the amount of money you are requesting ahead of time. This whole process takes about five minutes. The great thing about GreenSky is that you get an approval instantly. From that point, you can start celebrating the start of building your Oklahoma City outdoor living project.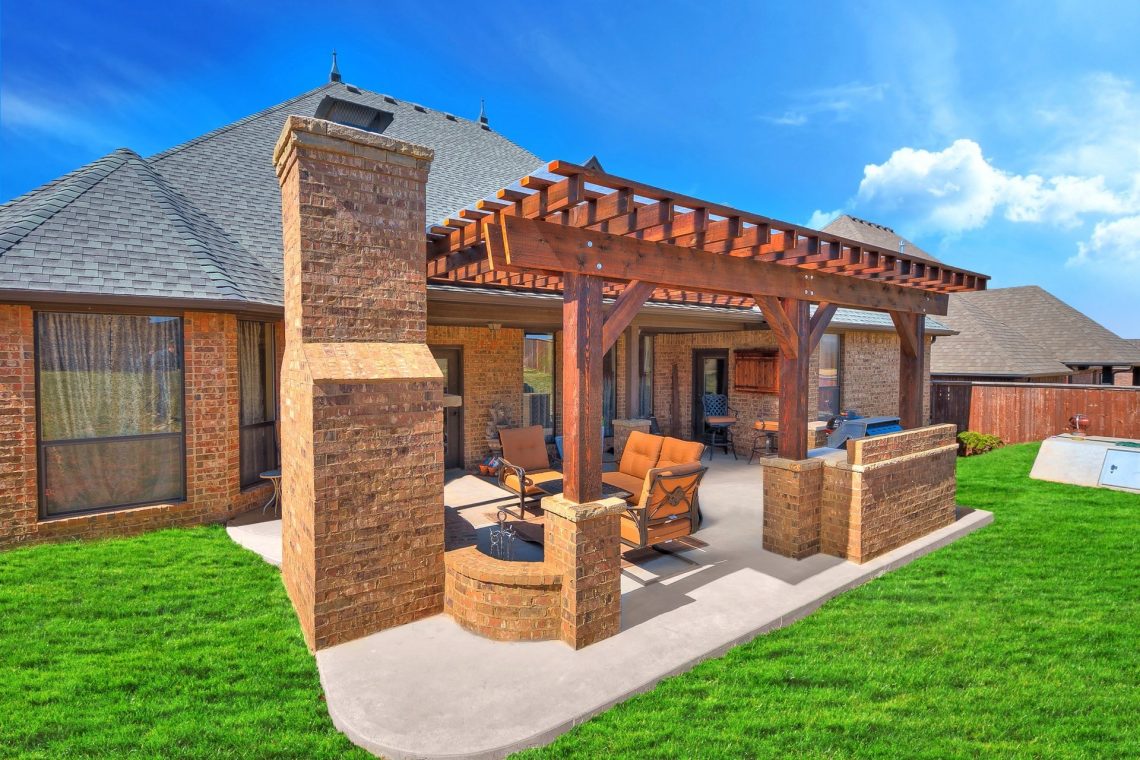 Which plan is right for you?
Only you can make the choice of what plan is good for you but from experience, the 12 months no payments no interest is a great option if you are looking to secure different financing within the next 12 months or get your bunny is bonuses or lump sums. There is no early payoff penalty. We offer two main plans.
Plan #1209 is a 10-year (120 month) plan that has an interest rate of 9.99%. Plan #3128 is our most popular option which is 12 months no payments, no interest. With no early payoff penalty's, you can take full advantage of these plans.
Qualifying Factors
Greensky been really looked at your credit score. If you have a credit score of 640 or higher, you are a great candidate for getting approved for green sky. You must also have a physical address and be a US citizen. Retail will finance between $3500 and $55,000 for your Oklahoma City Outdoor living Project. They usually help you get approved for more money and qualify when you have a co-applicant. We typically see customers getting approved for much higher amounts.
Our Process
If you are looking to have an Oklahoma City outdoor living project built, please let us know if you are interested in financing is we will help you determine which plan is best for you. Applying for green sky is very simple. We can walk you through the steps. Once you are approved, brink I will email you a credit card number that you will provide to us. From there, everything is how about the same as any other payment method. We collect our half down to start the project and then we will run the card at the end once completed and you are satisfied with our work
You as the homeowner are in control of the credit card.
Oklahoma City outdoor living is our passion and we would love the chance to talk to you about your project edit I have the opportunity to earn your business. Please let us know if there is anything we can do to help you out. You can call our main number at 405-881-7640 To talk to a friendly and knowledgeable staff about financing or anything else. Don't forget that you can always come in our show room and see all of our beautiful displays and discuss more about work those